This article is intended as basic guidance as to how to properly monitor and track a website position in Google based on specific keywords searched through Google.
Below are a few important technical terms, in very basic non-techie explanations, that should first be understood:
Google Algorithm. Every time a search is conducted in Google, there is a special computer program that grabs 1000s of pieces of data, sifts through them, orders them and makes decisions, so that the best possible search results can be offered up. For example, if "Nike Shoes" is typed in Google Search, the Google Algorithm will do its magic and return the results it feels are going to be the most useful to the searcher.
Google Position. This is the exact position a specific website or page shows up when Google search results are returned. This does not include paid advertising such as Google AdWords. For example, if the phrase "fishing vacations in Florida" is typed in, and the first results in Google is associated with www.tripadvisor.com – this first listing would be considered position #1.
Organic Search Results. The are search results that display in Google which are not paid ads such as Google Adwords. These listings are naturally occurring based on the Google Algorithm. Organic refers to natural – as in the natural position, not a modified position.
[lightbox full="https://w3developing.com/wp-content/uploads/2014/08/fishing_vacations_in_Florida_-_Google_Search.png" title="Google Organic and Adwords Search Results Example"]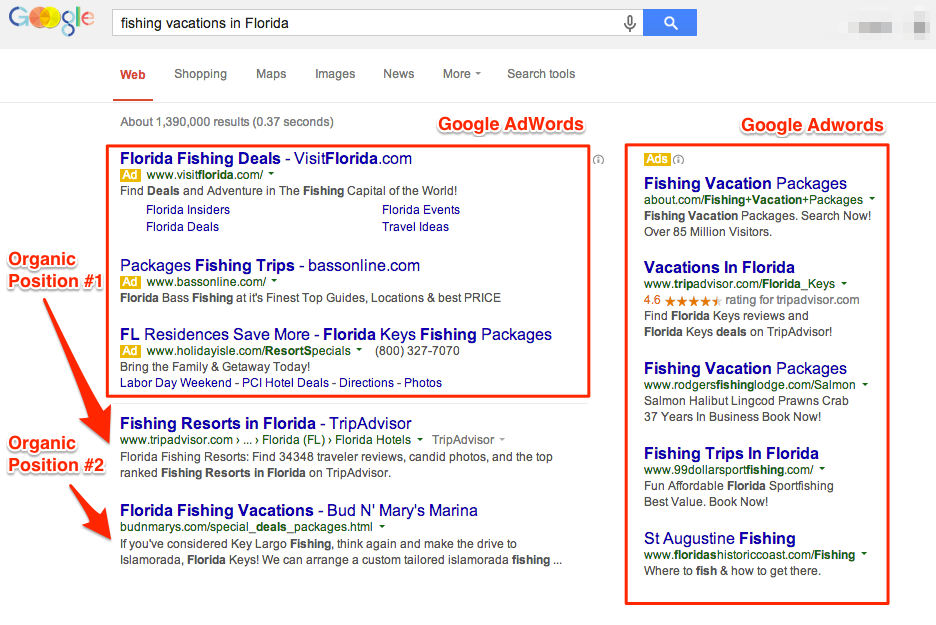 [/lightbox]
What Does the Google Algorithm Use to Determine Organic Position
There are many variable factors that affect a website's organic search position. These factors are too many to detail and define but some of these include: how fast a website loads, if the website is responsive (meaning does it adapt to iPhones, Androids, etc), is the structure and coding of the website proper. There are over 250 detail oriented factors – the above are just a few of the basics.
Other factors include: Localisation and Personalization.
Localization might be related to the specific area a Google search is being conducted. For example, if a searcher is in a hotel in Buffalo, NY, and search a phrase such as "Local Car Rentals", the Google Algorithm will go to work and attempt to serve up car rental listings in the Buffalo area.
Personalization might be more inclined to use data the search has already searched or browsed – take this into the Google Algorithm and apply it for results. For example, let's say the same searcher above, that was searching from Buffalo, NY for car rentals has recently looked at Enterprise and Hertz websites directly, spent some time on them browsing around. The Google Algorithm might take this into account and serve up results related to these two rental agencies – maybe focusing on a specials or deals page offered by either of them.
The Google Search Algorithm Changes Website Position
Very often a website will show up in position number one, and on the next search, using the same search keywords, the website might position at 2 or 3 or even 5!
This could be the same for a website showing up on position number 9 and then on a subsequent search, 1 minute late the website is showing on the second page or results (no longer on the first page of Google)!
Business Owners Go Mad Over Variable Search Positions
These fluctuations and changes often confuse, overwhelm and mystify business owners attempting to understand their websites position under specific search phrases.
It can be alarming or unsatisfying for a business owner to see their site on top and then on the bottom or missing in a very short span of time – this fires off all types of confusions and alarms.
Fortunately and unfortunately this is the nature of the beast with the Google Algorithm.
Bias Website Positioning Wouldn't Be Very Fun Either
If positions never changed, or were predetermined by Google, that would make a pretty unfair and biased playing field which would also limit options for end users (those searching for info, products or services). Pretty boring!
Because of Varying Website Positions, Averages Are It
Because of continuous website position changes in Google, there really is no exact position a website will always position at.
Therefore, averages are used to determine an estimated or approximate position at any given search request.
For example, if a website is located in Google at position #5 and 5 minutes later, using the same search phrase, the website is at position #10 the average position would likely be somewhere around 7 – but in a more realistic scenario the position would likely change many more times than two in a given day. Could go from #2 to #7 to #4 to #1 etc.. As can be seen this average to another number.
Google Webmaster Tools Offers Features That Can Be Helpful
Google Webmaster Tools offers a simplistic solution to identifying likely search engine average positioning based on Google keyword search.
As the title indicates, Google Webmaster Tools is somewhat of an advanced system for "Webmasters" – not that understanding the data is too complicated, but setting it up and putting it into use can be a bit technical and above the average website owner skill set.
Webmaster Tools offered average positioning based on keywords as well as other position relevant information. As well as increases and decreases percentages in positioning.
Another piece of data included is called impressions. Impressions are simply the total count of each time a website shows up in search results based on a specific searched keyword or phrase. Impressions can help understand and measure the activity of a website in search results.
[lightbox full="https://w3developing.com/wp-content/uploads/2014/08/Webmaster_Tools_-_Search_Queries_-_http___proexpos_com_.png" title="Google Webmaster Tools Screenshot – title"]

[/lightbox]

We Offer Google Webmaster Tools Set Up Free
w3developing offers a free introductory service of setting up Google Webmaster Tools for qualified companies and websites. Contact us today to get started!
[text-blocks id="416″ slug="request-a-callback"]